Our Beginnings – Deines Microfilm Services
---
Innovation and an entrepreneurial spirit have been at the core of our organization, going back to our earliest roots. In 1972, as an explosion in information volume swept North America, an Edmontonian named Walter Deines purchased a microfilm camera and founded Deines Microfilm Services.
Though now obsolete, microfilm was the most efficient way to store information at the time, as it could be used to create tiny, detailed copies of paper documents. This compression allowed for thousands of images on microfilm reels only a few inches in diameter, drastically reducing the space required to store information.
By 1976, Deines Microfilm Services was the dominant force, with offices in Winnipeg, Regina, Edmonton, Calgary, and Vancouver. Dominating the microfilm conversion market in western Canada, Deines completed work for provincial and municipal governments, public and private institutions, large corporations, and small businesses. After many years of successful business, Deines was eventually purchased by Imaging Solutions Ltd. in the 1990s.
A Digital Change – CriticalControl Solutions
---
By 2001, digital computing had advanced rapidly and had completely surpassed microfilm's efficiency and convenience. Faced with the end of its market niche, Imaging Solutions sold to WNS, a computing and IT company offering digital information services as well as data transformation. In 2005, WNS changed its name to CriticalControl Solutions.
Continuing Information Management – Accurate Data
---
That same year, a talented entrepreneur in Edmonton named Nizar Jaffer Somji founded the Jaffer Group, a diverse collection of companies in real estate and development, hospitality, and data services. One of these companies was Accurate Data Services, offering IT and data management solutions to organizations and businesses in Edmonton.
---
By 2015, CriticalControl Solutions was looking to consolidate its business model around software development for highly technical applications in the oil and gas industry. In May of that year, Accurate Data Services purchased CriticalControl's Edmonton assets and rebranded to become Consentia. Since then, we have been providing accurate and reliable data transformation services to clients in the private and public sectors in Edmonton and across Alberta, including paper scanning, microfilm conversion, data entry, and transcription.
We've converted over 1 billion documents…
Consentia has been a client-centred organization from the very beginning, always seeking to provide clients with the greatest possible value for their investment. By constantly re-evaluating every aspect of our operation, we cultivate an organizational culture of continuous improvement. Team members at all levels are encouraged to seek out ways to refine our practices, ensuring that clients receive services as quickly, efficiently, and cost-effectively as possible. This focus on efficiency and operational excellence is what guides our relationships with our clients, our partners, and our employees.
Internally, we endeavour to cultivate a rewarding, supportive, and positive work environment where employees feel respected and valued by their peers and leadership. We value open communication, collaboration, and accountability while promoting employee growth and development. Consentia's commitment to our team has led to tangible and measurable improvements in productivity, quality of work, and operational efficiency. We firmly believe that satisfied and engaged employees do their best work.
Externally, we want all our clients and partners to feel confident in their decision to work with us. To that end, we strive for transparency, effective communication, and, most of all, client satisfaction. If you have questions, we want to answer them; if you have an idea for improvement, we want to explore it with you.
By 2025, we aim to be Alberta's premiere choice for digitization services.
Our success is built upon a foundation of values we hold close. These are our pillars which not only support the work we do, but also help propel us forward to provide the best possible service and environment for our team.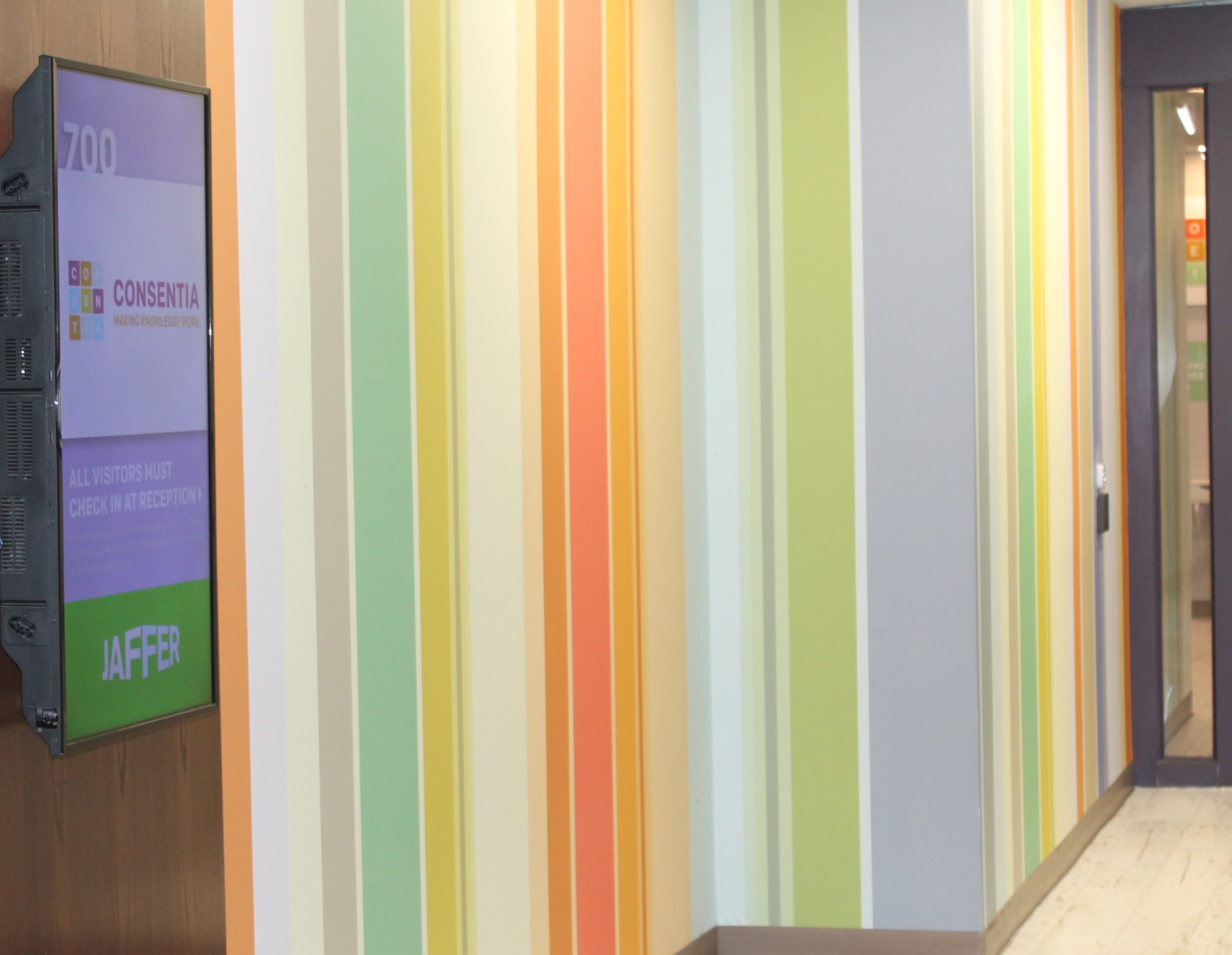 ---
Located several stories up in the heart of downtown Edmonton, our service bureau is both secure and conveniently located for most local organizations. Physically securing our office are 24/7 onsite security personnel, keycard and pin-code locked doors, and strict visitor monitoring policies. Our multilayered network security includes an isolated intranet server for storing client files, ensuring maximum protection against cybersecurity risks. To verify these security measures, we are audited annually by an independent third party and certified by the Government of Alberta.