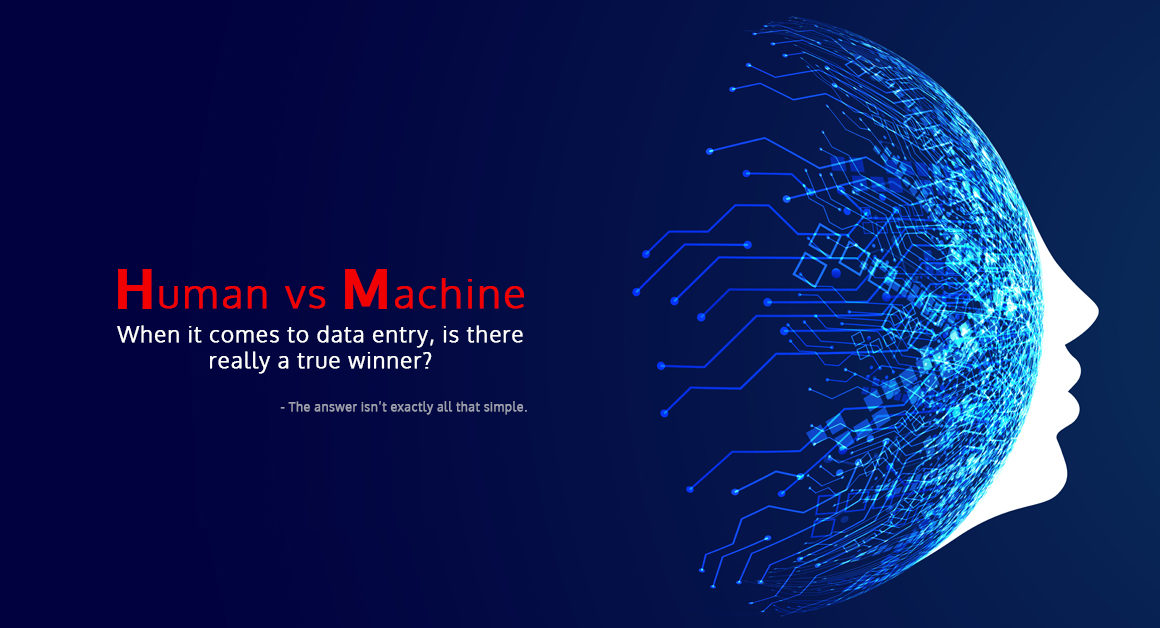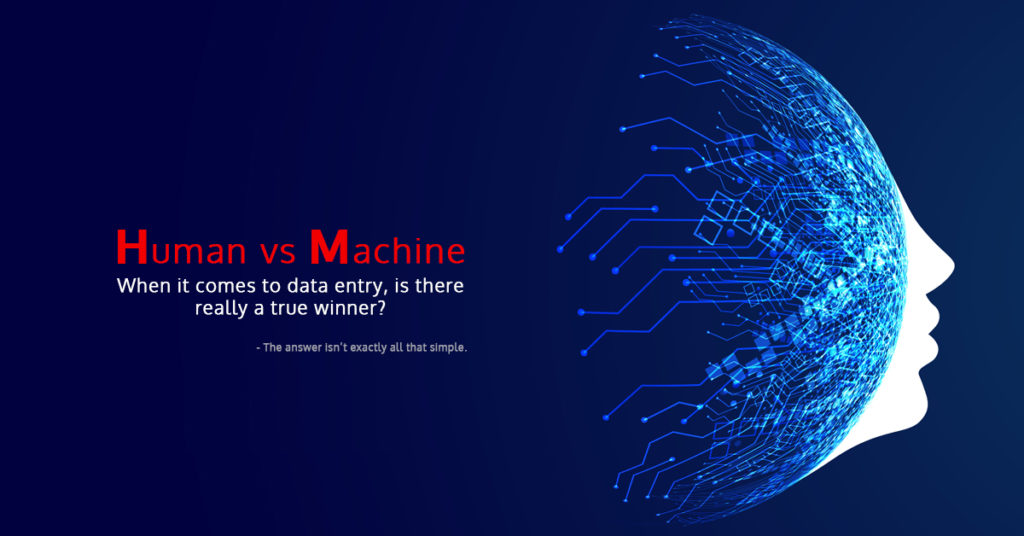 It's the age-old question of humans vs. machines: who is better at data entry?
The answer isn't exactly that simple. Machines have come a long way especially with Machine Learning but the keyword here that really needs to be emphasized is that machines really are still learning. When it comes to data entry, it works best when both humans and machines collaborate together. 
Machines are great at cutting time-consuming tasks, while humans are still needed to validate results and ensure there are no errors along with ensuring machines are indeed fulfilling the jobs they were meant to do. Think of voice dictation and the annoyances we still sometimes face when machines try to interpret what you had just said into text but only to be typed out as "egg snore" instead of "ignore." 
Similarly, even machines can make mistakes when reading through hand-written text and not being able to fully understand the context of every input. Humans, however, can—well trained humans in data entry and information management. 
Team up both humans and machines together, though, and you get one of the most powerful and reliable information systems to exist. 
Machines: the brunt work of data entry
Machines are good at tedious and repetitive jobs. Powerful automated systems help speed up the data entry processes that move paper documents, forms, and records at blazing speeds compared to humans. Modernized systems are able to take in huge amounts of data and process them into digital management systems. 
Automated data entry systems are also incredible for consistency in data entry, as they rely on rules to correctly update—rules that have been created and set by humans. You can have automated systems running in the background to get the bulk of your data entered. 
Once the machine has done its job, it's time for humans to step in.
Humans: data correctors and evaluators
Humans can process information more intuitively compared to machines, and we understand context simply better and quicker. 
Automated data entry isn't necessarily error-free. Machines must be checked by humans and re-directed as necessary. Humans still need to set up error reports to check for possible large-scale issues. More specifically, humans need to:
Verify data: It's important for humans to identify errors and find out how they occurred. Unless the rules are corrected, the data entry program will continue to make mistakes. 
Check for redundancy: Redundancy is one of the greatest frustrations with automated data entry. You should check for redundancy and see how you can avoid double entries in the future. 
Track accuracy goals: Accuracy goals are a good way to make sure your data entry is on the right path. It's essential to track your goals through reports and see how you're improving over time.
In the end, humans and machines can work together—beyond the fictional depictions of what you see in sci-fi movies—to create the most ideal, efficient data entry process. It may take some trial and error at first, but soon your company will be able to minimize error and reach those accuracy goals. 
Interested in a new data entry process? Find out more about automated data entry services here.