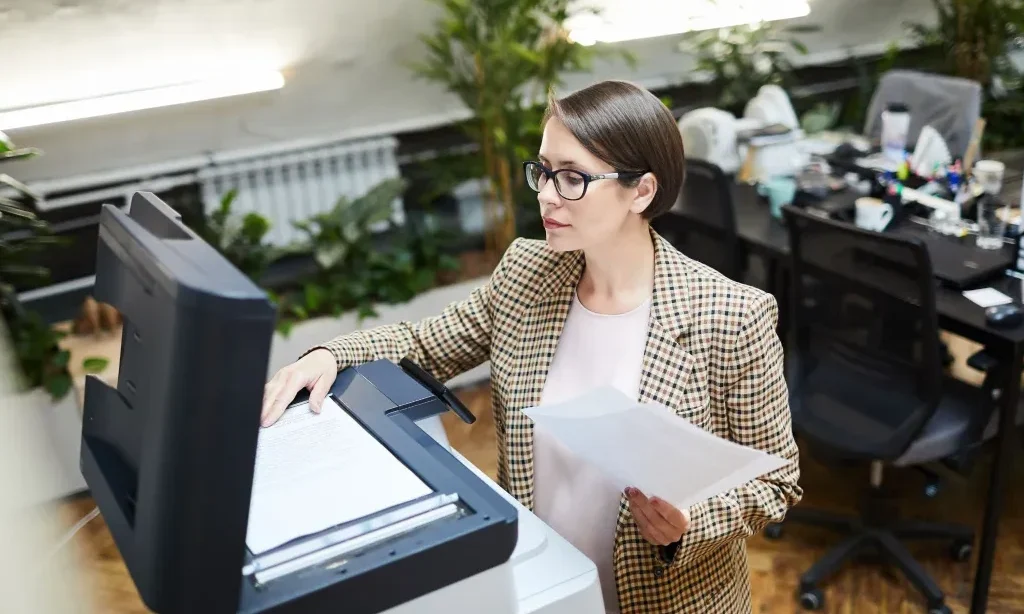 Paper Scanning Explained in 5 Simple Steps
Are you looking for a reliable and efficient way to digitize your paper files? Our paper scanning process is the perfect solution for those who need to convert physical documents into digital format. With this service, we can quickly and accurately scan all types of documents, from large-format maps to small receipts.
The benefits are numerous: not only will you save time on tedious data entry tasks, but you'll also be able to store important information more securely in an easily accessible format. In the following paragraphs, we'll explain our five-step process so that you can understand the process from beginning to end.
Step 1: Get in Touch
The first step in digitizing your files is to give us a call and tell us what you need. Our experienced team will help guide you through the process from start to finish – answering any questions you may have or filling in any details you want to know.
We're proud to provide complete transparency and consultation in this initial consultation and then throughout the entire process of digitizing with us. Even if you're not sure whether your files need to be digitized or where to begin, we'd be happy to provide some insight.
Step 2: Transportation
Once you've decided to digitize your files, we'll arrange for secure transportation of your documents to our service bureau. When dealing with sensitive data, it's important to make sure you're using a reliable and trustworthy transporter that can handle the task. Click here to learn more about mitigating security risks in transportation.
That's why we have an in-house courier who can retrieve your documents for scanning. Our team members are experienced in handling sensitive material, so you can be sure that your files will be kept safe and secure throughout the entire process. Plus, our courier is efficient and reliable, so you won't ever have to worry about delays or lost items.
Step 3: Double-Check
When the files arrive at our office, our staff will check them against the inventory to ensure they all made it safely. This verification process ensures that each document is exactly what was requested and nothing is missing. We understand how important these documents are, which is why we take this extra step to make sure everything is correct before scanning begins.
Step 4: Time for Paper Scanning
With the files verified and everything accounted for, we can then move on to scanning them into digital format. Our team of scanning experts uses a wide array of advanced equipment to quickly and accurately scan each file according to your specifications – whether they're text documents, photographs, or any other type of image – no matter its size or complexity.
As the paper files are scanned, our team will index the digital copies in the same way the physical files were organized. This ensures that the digital versions will only ever come back to you organized in the same way you sent them off, or better.
After scanning and indexing, we take special care to double-check some or all of your files to ensure that the digital scans were accurate throughout the process. When file images are blurry or obscured, we'll create replacements at no extra cost. We guarantee and consistently deliver a 98% accuracy rate or better.
Step 5: File Return
Finally, after all the files have been scanned, we'll send the digital copies to you using Secure File Transfer Protocol (SFTP) or via delivery of a secure removable storage device. Our talented IT team can also set up and maintain a secure, custom-built file hosting portal where you can organize and retrieve your digital copies with ease.
As for the physical copies, we can either return them to you or have them shredded. Even though it can seem scary to dispose of the originals, with secure, distributed digital storage of your new copies, you probably won't need the old paper files anymore. In fact, depending on the type of file, you may be required to destroy the original paper document, now that the digital copy is the official legal copy.
Conclusion
Whether you're experienced with digitization services or just trying them out for the first time; whether you know exactly what you need from us or don't know where to begin, we're excited to help you bring your information into the digital world.
Get in touch with us today for a completely free and transparent consultation!